Looks like now Apple is trying to support landscape screenshots on the App Store. It's a common practice for Google Play. And a longtime request of Apple devices owners. Twitter users also noticed the change recently.
So App Store screenshots are now showing landscape on iPhone? Much better. #iosdev

— roboteka (@juhapennanen) October 22, 2015
Wait, how long has the App Store correctly displayed landscape screenshots? https://t.co/gwLG0Of15g

— Mike ZomBeasley (@MikeBeas) October 21, 2015
It is a natural step for Apple as for a very long time app developers had to handle the inconvenience of landscape screenshots showing in portrait mode and users complained about it so many times.
Landscape app screenshots in the App Store don't work because I have to turn my head. Turn the phone and they turn too. Stupid.

— Richard Smith (@richard5mith) October 1, 2015
@viticci how long until Apple allows App Store landscape screen shots to be displayed in the right orientation?

— Sarge Engine (@ser9e) July 24, 2015
Now it feels more like a bug but there is hope that Apple is trying to do something about the screenshots display. There's too much empty space, sometimes video posters are not displayed.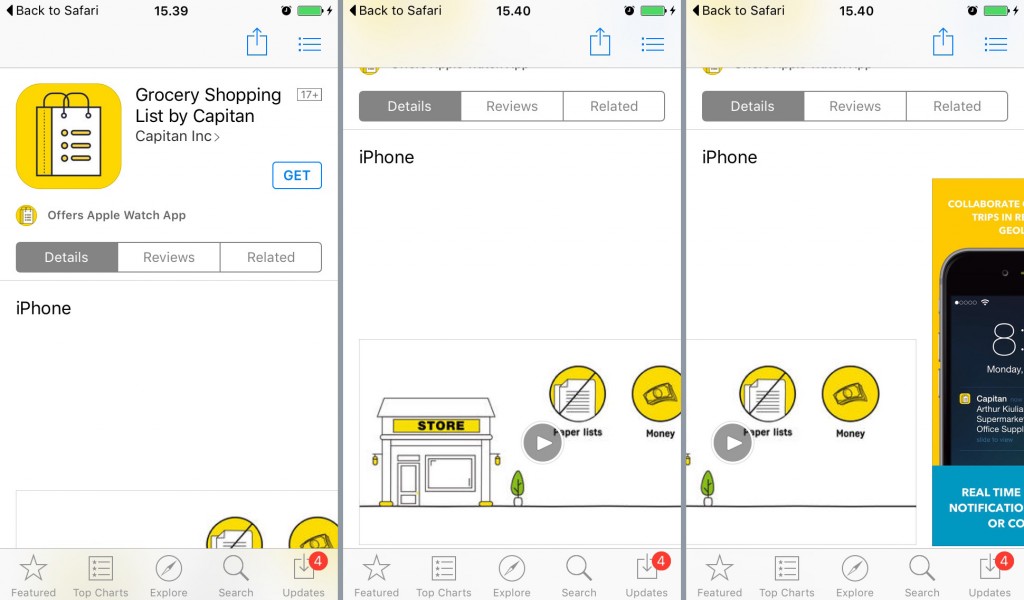 Screenshots are shown in landscape orientation on page but when you open them in full view they show in portrait mode.
App Store programmer #1: "what should we do for landscape for screenshots?" App Store programmer #2: "I got it." pic.twitter.com/9HWbu81OUV

— Spooky Streza (@SteveStreza) October 15, 2015
It might be time to check how your screenshots look on the App Store page. Many publishers were obviously not ready for such a makeover. At the moment landscape video + portrait screenshots look a bit awkward both on app store product page and search results.
Now that the apps with portrait screenshots occupy much more space on the page, portrait screenshots look more appealing. Instead of one big screenshot you can see two small ones. App publishers claim not to be very happy about this change. Some of them might reconsider an app store experience strategy if it remains like that.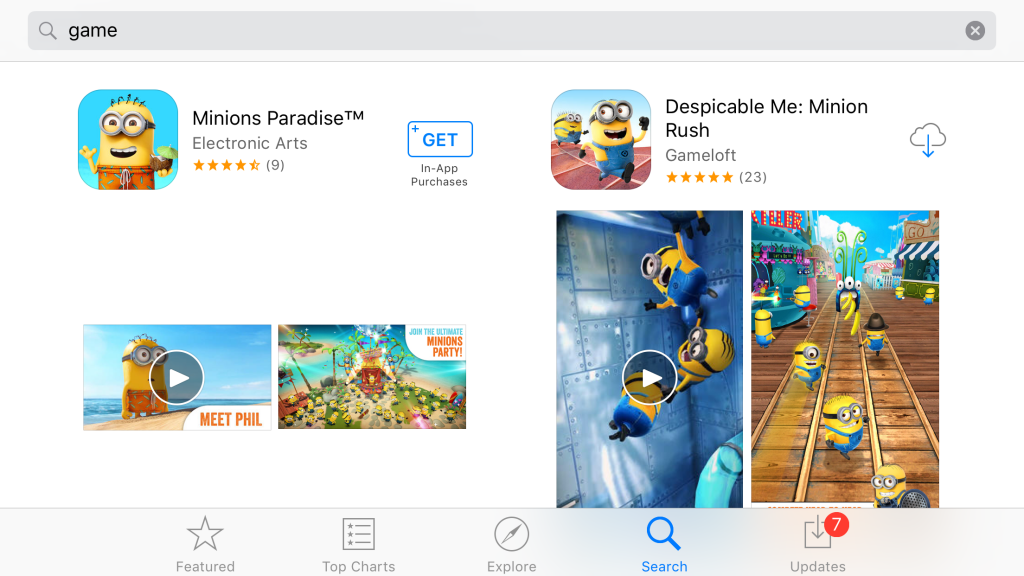 Landscape screenshots have always been more appealing for Games as their interfaces are more likely to be in landscape mode. Still non-gamers are not very comfortable with keeping their iPhone in a landscape mode. This is why game companies tend to stick to portrait screenshots.
Recently we published the Rovio case where portrait screenshots were credited for more installs. Let's see what is coming next.