Mobile A/B testing has been around for quite a while and for a good reason. It can be widely used for marketing purposes: from getting data on the behavior of the target audience to user acquisition on major app stores.
If you understand the value of data-driven decisions, mobile A/B testing might become your go-to solution as it lets you get beyond the guesswork. Splitmetrics teamed up with Apptimize and created a comprehensive guide to App Store and in-app A/B testing which will help you grow your mobile business.

Download Guide to Mobile A/B Testing
Why Mobile A/B Testing
What if you could get into your users' heads and learn what kind of product page elements appeal to them the most? What if you could use this information on your store pages and inside the app itself boosting marketing ROI? What if you could learn which trends stand behind app store optimization best practices?
All of that is what mobile A/B testing is used for by thousands of app publishers around the globe. It can't be called a novelty and might've been already used by your marketing team. When it comes to mobile A/B testing, there's no rocket science but there is a certain set of rules you need to follow.
That is why we created our "Complete Guide to App Store and In-App A/B Testing' – to give you actionable insights and proven tactics, which will help you increase conversion on app stores (first part of book) and keep users engaged inside a mobile app (second part of book) via mobile A/B testing.
You'll learn to identify the right elements to test, get the complete roadmap of necessary actions, get tons of benchmarks and much more. All these will help you enter app store optimization best practices hall of fame.
Mobile A/B Testing in Stores: App Store Optimization Best Practices
With millions of apps in the App Store and Google Play, mobile publishers struggle to be discovered, let alone getting an install. New trends call for new strategies and ASO plays a key role in today's competitive mobile landscape. In the majority of cases, non-optimized product pages become the major reason for a low conversion rate and ad spend waste.
What are app store optimization best practices? What are the steps to mastering the art of ASO? What to start with? Complete Guide to App Store and In-App A/B Testing by SplitMetrics is here to help.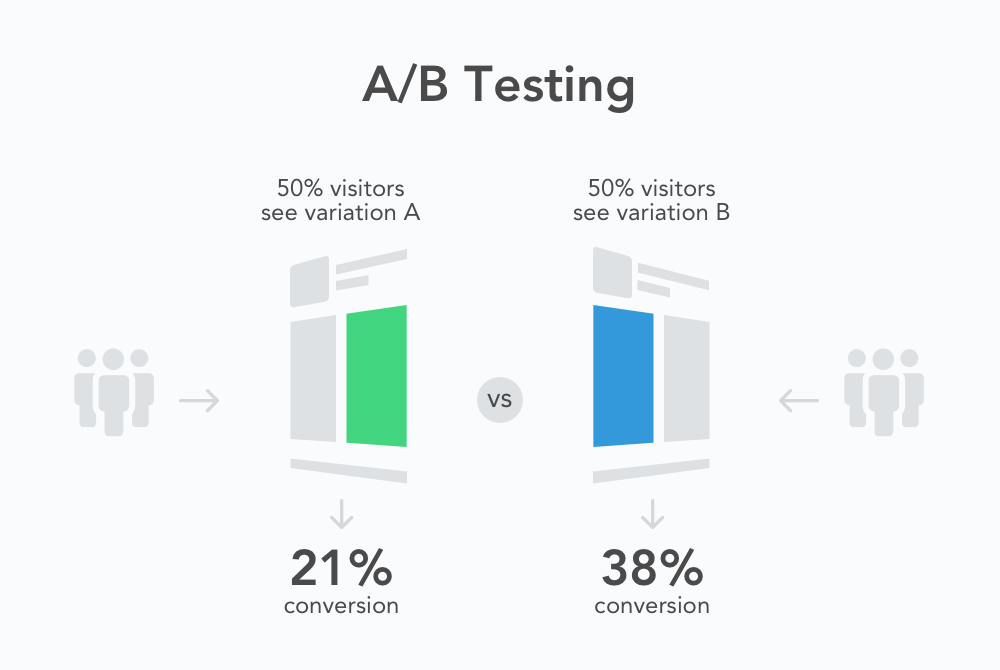 Thousands of app publishers trust SplitMetrics to analyze over 60 million users within the App Store and Google Play ambiance. All of the crucial findings made it to this book which will guide you through the complex process of optimizing key App Store elements with help of mobile A/B testing.
The first part of our guide to mobile A/B testing includes the following chapters:
Chapter 1. Deconstructing App Store A/B Testing
App Store A/B Testing Overview;
How to Run Valid A/B Tests;
– Research Prior to A/B Testing;
– Hypothesis;
– Traffic;
– Targeting;
– Finishing A/B Tests and Interpreting Results;
– Measuring Impact of A/B Testing Results in Stores.
Pre-launch A/B Experiments
Chapter 2. Workflow: A/B Testing Timeline
Research and Analysis;
Brainstorming Variations;
Designing Variations;
Running Your A/B Experiment;
Evaluation of A/B Testing Results;
Results Implementation and Tracking;
Follow-up Experiments.
Chapter 3. Pages to Optimize in App Stores
App's Product Page Testing
Category & Search Pages Testing
Creative Sets Testing within Apple Search Ads
Chapter 4. Most Influential Page Elements for A/B Testing
Icon
Screenshots
App Preview
Mobile A/B Testing inside Apps: Secret to Long-term Product Growth
It's not a big revelation that mobile app adoption has exploded over the past five years. App downloads increased by 62% in just two years. By 2022 there will be a staggering 31.5 billion app downloads across the globe.
With the rapid democratization and proliferation of mobile app adoption over the last few years, it's no secret that the product management landscape has shifted.
Unlike web or desktop apps, a mobile app as a product demands constant and meaningful user engagement that translates to growth and retention — which ultimately leads to revenue that can have a lasting impact on your business as a whole.
From working with companies that have run experiments on over 1 billion mobile devices, our partner Apptimize has discovered that companies which iterate rapidly grow on average two times faster than their counterparts that don't.

Everything matters in the ecosystem of a mobile app feature. Each user touchpoint impacts product growth — every button, feature, user flow, checkout experience, font, and CTA has a lasting impact.
In the second part of the ebook, we will walk you through the whats and whys of mobile A/B testing inside apps, and how it can have a lasting impact on the evolution your product.
Chapter 5. In-App A/B Testing Importance for Long-term Product Growth
Why Is In-App A/B testing Crucial for Long-term Product Growth?
What Is In-App A/B Testing?
Five Steps to a More Powerful In-App A/B Testing Roadmap.
Reasons for In-App A/B Testing.
Chapter 6. In-App Testing and Optimization Best Practices
Onboarding
Mobile-First Experience
Call to Action (CTA) Testing
Increasing Subscriptions
Monetization
Retention
Feature Discovery
Checkout Flow
Chapter 7. Building vs. Buying Your A/B Testing Solution
Overview
Internal Resources
Accessibility
Cost
Innovation
Security
Chapter 8. Mobile Retention 101
Gather User Feedback Early and Often
Identify and Eliminate Friction
Build Better Usability Habits
Test Every Release
Repeat
Mobile A/B Testing as Part of ASO Strategy
We believe that by following our recommendations, you can become a pro in mobile A/B testing— a skill that is gaining relevancy across many disciplines.
App developers claim that app optimization has changed dramatically in recent years. It's no longer enough to put more or less relevant keywords in an iTunes Keyword Field and use 'quick-and-dirty' screenshots to optimize an application.
Instead, you should complement your strategy with thoughtful analysis of all store elements (check our new interactive ASO checklist to detect bottlenecks that are hindering your app's growth) and in-app actions, reputation management, consistent mobile A/B testing and optimization.
App developers follow new rules. No wonder that startups along with seasoned enterprises aspire to make the most of their marketing budgets by perfecting in-app flow and applying app store optimization best practices.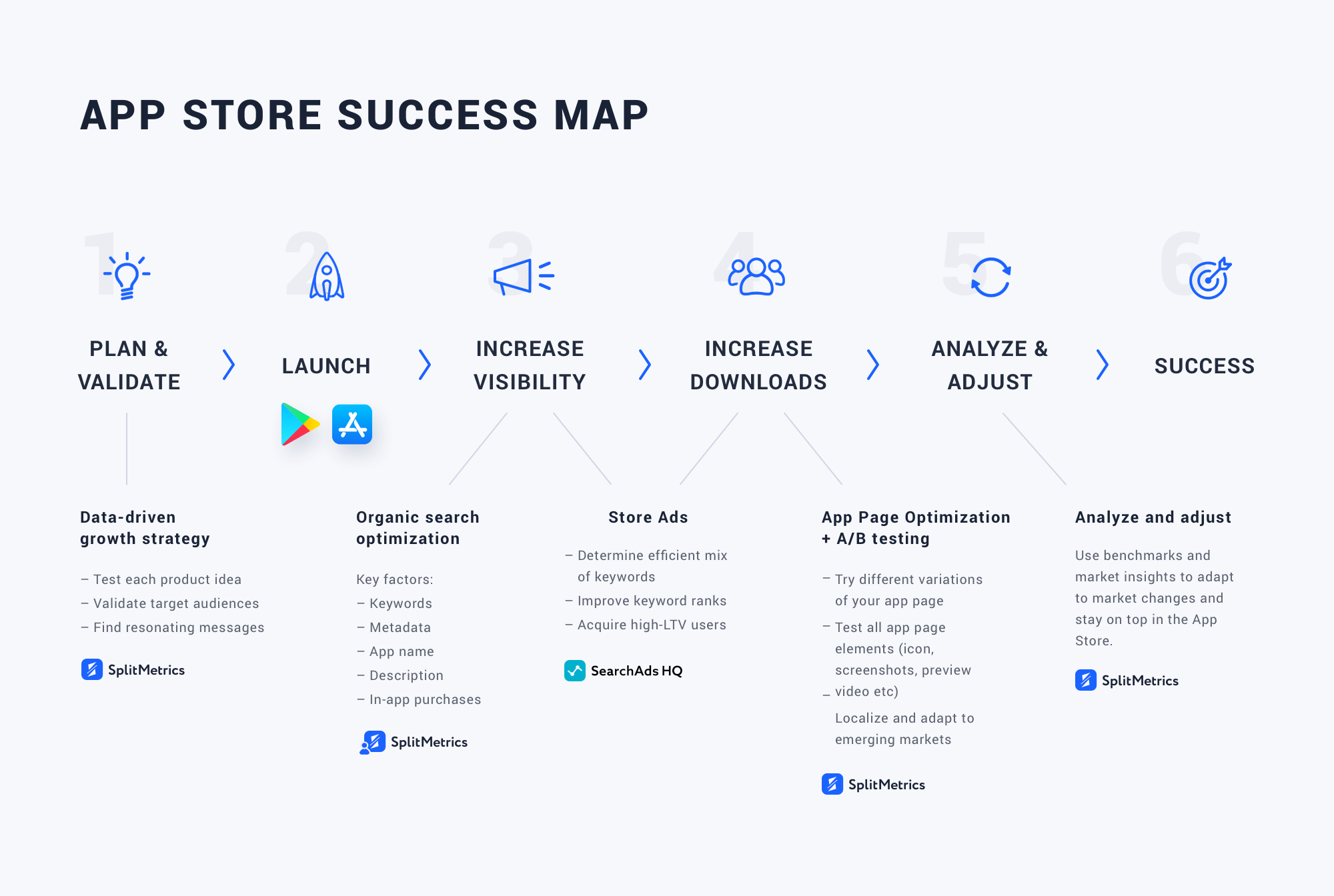 If you want to provide for multiple downloads and guarantee good marketing ROI, the development of a sustainable ASO plan is a must (more details in our article App Store Success Map). Sticking to app store optimization best practices will help to enhance your user base and refine sales, conquer new markets and strengthen the overall positions of your brand.
The success of a mobile app is an ongoing process. When you refuse to adapt to the changing tides of the industry, you jeopardize the future of your products. Furthermore, every time you alter something in your strategy, it's necessary to be sure that it's a turn for the better. Using mobile A/B testing as your basic approach is a proven way to avoid unnecessary risks and make the most of your resources.
Download Guide to Mobile A/B Testing