The SearchAdsHQ team is proud to announce the redesign of our platform for App Store Search Ads management and optimization. The thorough analysis of users feedback and focus on increasing the dashboard efficiency became our guiding lights.
The updated look of the SearchAdsHQ dashboard doesn't only meet all needs of users, it also improves functionality, enhances informative value and upgrades usability. The optimization of App Store Search Ads has never been that intuitive!
SearchAdsHQ Redesign: Updated Dashboard of App Store Search Ads Manager
Revised Header of SearchAdsHQ Dashboard
The latest redesign enhanced the informative value of the dashboard along with making it a bit more space-saving and neat. It also favors better access to other dashboard elements of SearchAdsHQ.

The status indicator was moved to the dashboard name block so now users can see the status of a Campaign or an Ad Group they are interested in without extra scrolls.
Furthermore, the updated dashboard for managing App Store Search Ads got a new block called "Info". Clicking the "Info" button, you get quick access to a brief overview of the most important data on:
Ad Account;

Ad Group

App, or

Campaign.
For example, being on the Ad Group level, you can easily check out its targeting just tapping on this button.
Another change of the SearchAdsHQ header concerns the calendar. It was placed in the top right corner of the header which made all elements look compact and concise. Moreover, such structure is more familiar to users that work with Adwords and Facebook.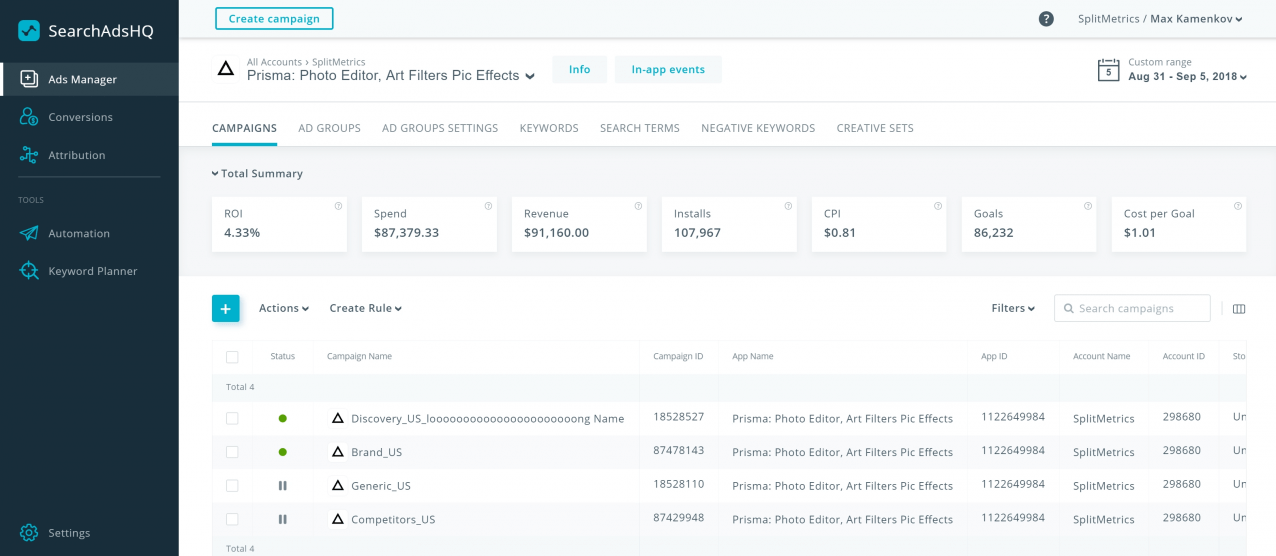 Improved Navigation within SearchAdsHQ Dashboard
The navigation within SearchAdsHQ dashboard was slightly changed in favor of clarity, simplicity and convenience. First of all, the tabs for switching the dashboards were placed on top and two-level tabs navigation was abolished. Thus, a user doesn't have to scroll down to switch to another dashboard.

The navigation panel also got a few new sections:
Search Terms;

Negative Keywords;

Ad Group Sеttings.
The logic of the dashboard navigation was altered as well. For example, working with keywords and clicking on a campaign within the table, users are redirected to the «Keywords» section of this campaign right away instead of finding themselves on the default first level.
'Total Summary' Section Update
The informative value of the section 'Total Summary' was increased. This section also got a new feature – now the summary considers all applied filters and recalculates values accordingly.

The seventh metric 'Goals' was added to this section, it complements available data and helps to see the overall picture in the process of App Store Search Ads management and optimization.
The logic of the summary display was changed as well making it possible to reflect a specific dashboard section in the summarized data. This update eliminated the confusion of mixing statistics on Search Match and Keywords. For instance, now:
Keywords summary

displays aggregated data only on keywords;

Search terms summary

displays aggregated data only on search terms (mind that numbers can be different if you check statistics with enabled Search Match);

Negative keywords section

will have no summary as there is no statistics there.
Furthermore, it's possible to minimize the 'Total Summary' section if it's not used at the moment. So it doesn't distract users attention from data of their interest.
Significantly Revised UI of Dashboards Loading
With the latest UI update, the access to some dashboard instruments was sped-up. Now each functional section is displayed as soon as it's loaded. Another novelty is the introduction of the waiting indicator which is shown when SearchAdsHQ dashboards are refreshed or changed.
One more change concerns the emergence of asynchronous and phased data uploading which is a time-saver. Thanks to this update, users can, for example, get down to adding new keywords and creating ad groups without waiting for complete loading of statistics.

With Creative Sets debut and noticeable storefronts extension, Apple Search Ads keeps gaining momentum. Just a few months ago, some publishers considered this ad channel quite experimental but today App Store Search Ads becomes an indispensable part of any acquisition strategy.
The new design of SearchAdsHQ dashboard is yet another step to retaining its top position in App Store Search Ads management and optimization. Running your ad campaigns with SearchAdsHQ automated solution, you ensure ROI-positive installs without extra efforts.
Maximize your Apple Search Ads ROAS with SplitMetrics Acquire
Request Demo