After the major iOS 11 App Store update, Apple announced out the expansion of Search Ads storefronts list adding Canada, Mexico, and Switzerland. Ad campaigns on new locales are allowed to go live on October 17th.
Search Ads will be introduced to non-english-speaking countries for the first time. Probably, we can expect further expansion in the near future. For now, it's possible to promote and grow app in the following countries:
Australia;

Canada;

Mexico;

New Zealand;

Switzerland;

the United Kingdom;

the United States.
Other aspects of Apple Search Ads keep evolving as well. For example, now users can duplicate current data sets and use them in their new campaigns. Besides, a new manager role was introduced within the Campaign dashboard, it allows more access to the Search Ads dashboard data.
SearchAdsHQ, the platform which optimizes work with Apple Search Ads, progresses ahead as well. There are quite a few exciting updates we are happy to share.
Apple Search Ads Storefronts Support
SeachAdsHQ will support new storefronts from the day they go live, allowing to create new ad campaigns for Canadian, Mexican, and Swiss stores right from its dashboard.
Furthermore, SeachAdsHQ makes it possible to duplicate campaigns from the existing storefronts. This means you can duplicate all campaign settings, ad groups, and keywords just in a few clicks. Thus, you save time and get a base for productive work on the new locales.
Apple Search Ads Keyword Planner Updates
SearchAdsHQ includes the built-in Keyword Planner which automates the process of keywords research and optimization. Basically, the tool provides all keywords for which your application is currently ranking. On top of that, it unveils deep keyword insights essential for running successful Search Ads campaigns.
SearchAdsHQ Keyword Planner introduced an extensive update package which makes work with keywords way easier.
To start with, the tool will support new Search Ads storefronts which means you'll be able to get suggestions for Canadian, Mexican, and Swiss stores from day one, facilitating your first steps in these locales.
Another important Keyword Planner novelty is the enhanced rate of recommendations. A special mechanism was created, it collects all keywords for all apps uploaded to SeachAdsHQ from ASOdesk in advance. So, when you press 'Get keywords' button, suggestions for your app are already in the system.
The latest update of SarchAdsHQ Keyword Planner also made it possible to sort suggestions by a characteristic needed for the evaluation of a keyword efficacy (for instance, Search Popularity or Search Ranking).
The renewed Keyword Planner allows users to download all selected keyword suggestions in a single CSV file. Thanks to this feature, you can easily add all desired keywords to a few campaigns and ad groups. Moreover, the updated Keyword Planner lets users add chosen suggestions to negative keywords without leaving the dashboard.
Auto Suggestions for Apple Search Ads
Let's imagine that you plan to increase Apple Search Ads capacity and can afford running your ads for trending keywords. Sorting trending keywords manually might be a time consuming and tedious task. SeachAdsHQ introduces a brand new feature to automate the process.
Turning on SeachAdsHQ Auto Suggestions, you enable automatic adding of keywords to an аd group on the basis of the App Store trending searches and the settings of your campaign or ad group. To make it possible, SeachAdsHQ constantly tracks changes in the trending searches and adds new keywords that are gaining popularity to the group right away.
The keywords will be selected taking into consideration Storefront and Device settings. They will be added with Ad Group max CPT bid and Exact Match attributed to them.
However, it's not recommended to enable Apple Search Match and Auto Suggestions at once for the same Ad Group.
Setting Auto Rules for Apple Search Ads
One of the greatest features of SeachAdsHQ is the possibility of creating auto rules for keywords. The platform provides a capability set which can be used for making custom rules for CPT bid, Cost per Conversion, Spend, etc.
There's no need monitoring performance of each keyword by hand, SeachAdsHQ does it for you. For example, if you don't want your Spend to exceed $3, you can set a corresponding rule and ads will stop running for a certain keyword as soon as it becomes too expensive.
The dashboard for Auto rules got a new column 'Last Check Date' with the latest SeachAdsHQ update. It indicates when was the last time each rule was activated. It gives users a better understanding of SeachAdsHQ effective functioning. For instance, even if the application of the rule doesn't give any results, a user still can check whether it was actually applied.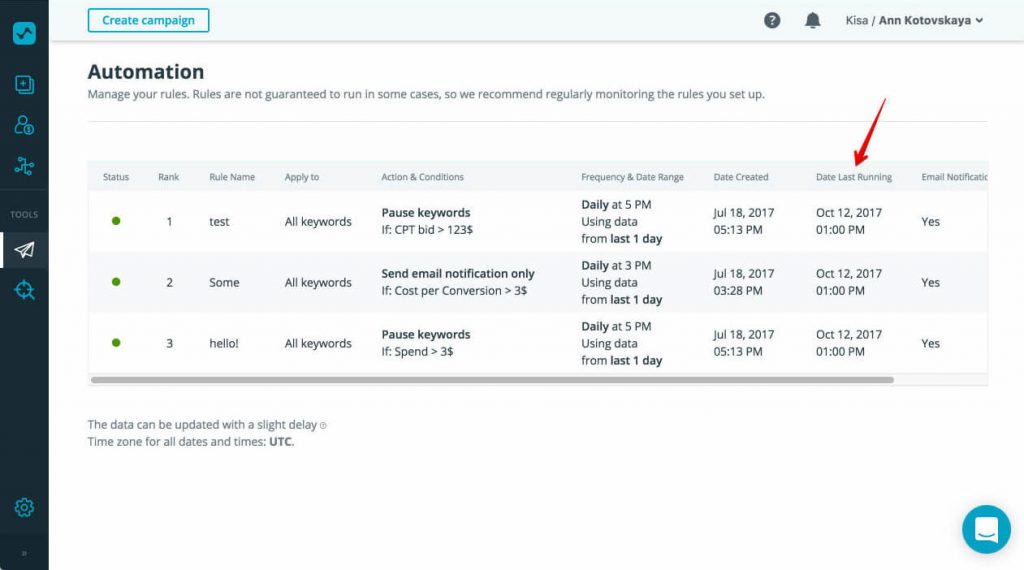 Bulk Changes of Match Type and Bid in Apple Search Ads
One more awesome new feature in SeachAdsHQ is the possibility of bulk changes of match type and bid which saves time and releases users from the burden of handling each keyword individually.
For example, if you want to use Broad match with certain keywords, bulk changes of Match Type will do it in no time. The thing is SeachAdsHQ applies Exact match type to all keywords by default as at times Apple Broad match is broad to the point of generating absolutely irrelevant keywords (for instance, it can turn 'art filter' into 'artists' easily).
Name Click Edit for Campaigns and Ad Groups
One of the most common complaints about the dashboard of Apple Search Ads is the inability to click edit the names of campaigns and ad groups. Running your ad campaigns via SeachAdsHQ, you forget about this problem.
Users can click edit campaign and ad group names with the updated version of SeachAdsHQ. This feature is really helpful, especially if you duplicate campaigns and ad groups. The Name Click Edit helps to keep your campaigns and ad groups tidy and find necessary ones easily.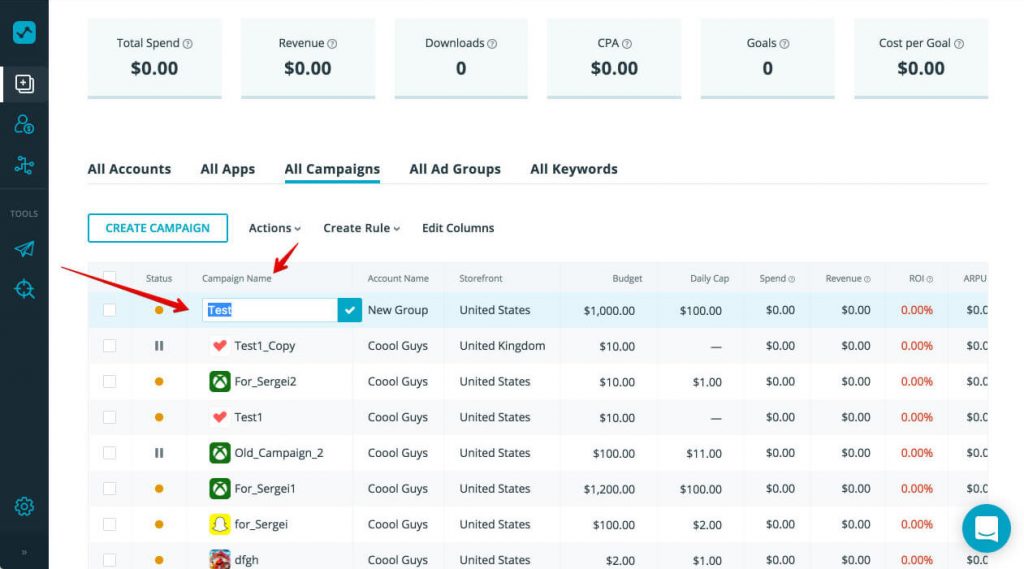 Uploading Negative Keywords with CSV
Another handy feature SeachAdsHQ introduced in the latest update is the possibility of uploading negative keywords with a CSV file.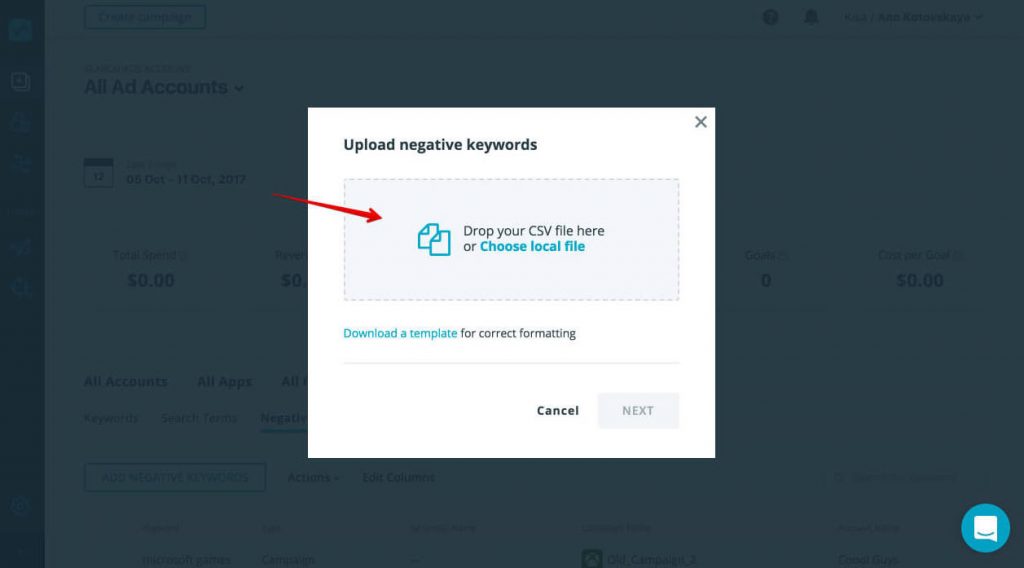 Imagine that you use SearchAdsHQ Keyword Planner to enhance your discovery campaign. There is a possibility that some of the newly found keywords will repeat themselves in Search Match ad group.
You can prevent such involuntary duplication uploading the bulk of new keywords as negative ones to Search Match ad group. Thanks to the introduction of CSV bulk upload this procedure takes no time. Thus, you can avoid unnecessary commotion on your dashboard.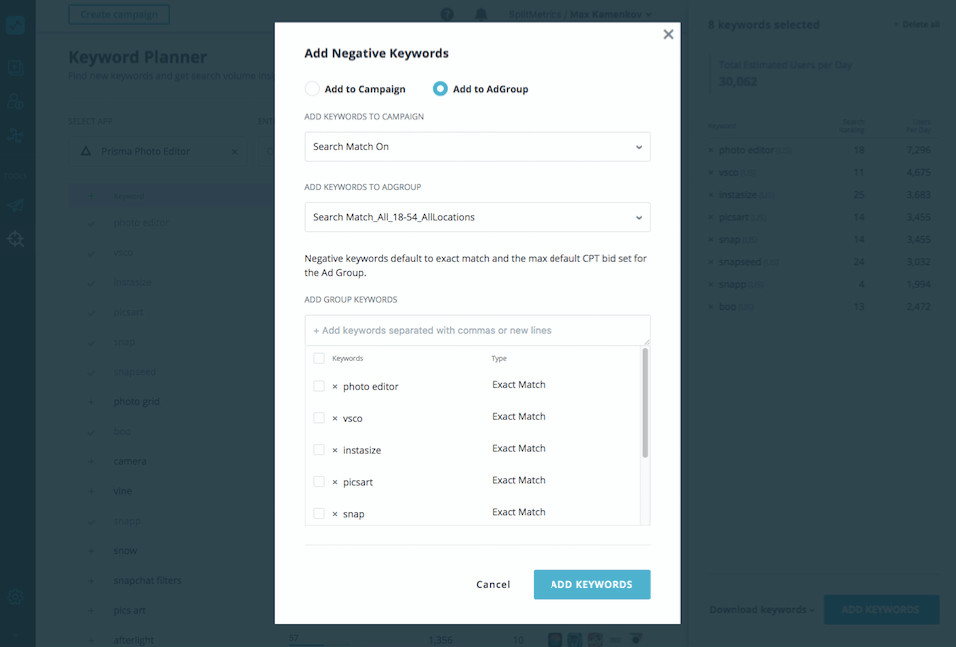 Apple seems to be determined in the necessity of Search Ads further expansion and 3 additional storefronts prove it once again. So it's high time to give this ad platform a try. Moreover, Apple still offers new users $100 for their first campaign with Search Ads.
It also makes sense to take a closer look at SearchAdsHQ. The tool automates and optimizes lots of aspects in Apple Search Ads workflow: from such little things as convenient campaigns and ad group naming to awesome keyword discovery instrument and setting of custom auto rules.
If you are ready to launch your first campaign in Apple Search Ads, click the button below and request a SearchAdsHQ demo. One of our team members will contact you to help you get started.