For a long time publishers and marketers have been facing the challenge of showcasing different features or content within their app to the various groups of users. As the iOS 15 update is finally live, we now have this opportunity to make the most relevant paid ads with custom product pages.
Custom product pages have replaced Creative Sets, while being personalized for any segment of the audience, which makes it easier to target specific groups of people and improve the conversion rate.
Ad groups in Apple Search Ads may include various keyword themes that, in turn, may be determined by the features of an app and the needs of the target audience. For such ad groups you're now able to create custom product pages – specifically for each keyword theme – thus highlighting different features.
For example, you can customize screenshots, promotional text, and app previews for eSignature, scanner & invoicing, and provide the most consistent user experience for each segment of your target audience.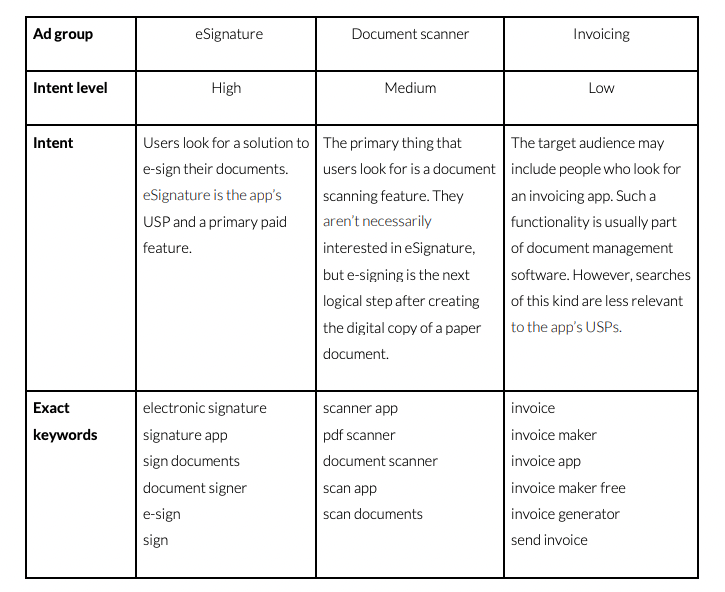 Use custom product pages in generic Apple Search Ads campaigns to highlight different features or capabilities with keyword themes.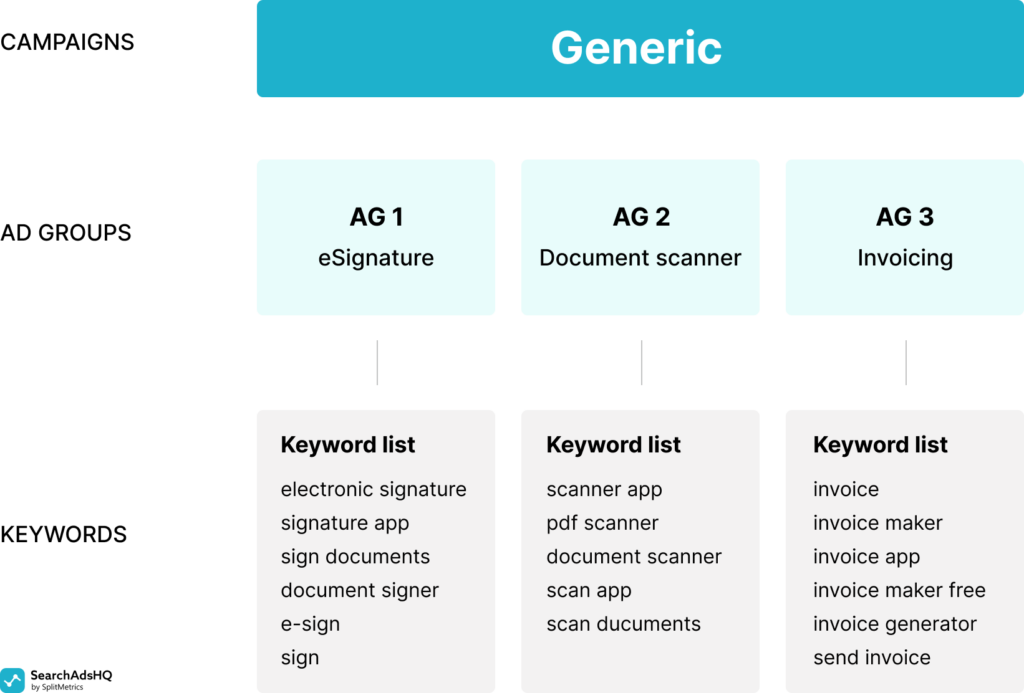 If you prefer audience-based account structure over the semantic-based one, you may also adjust custom product pages to the needs and interests of new and returning users.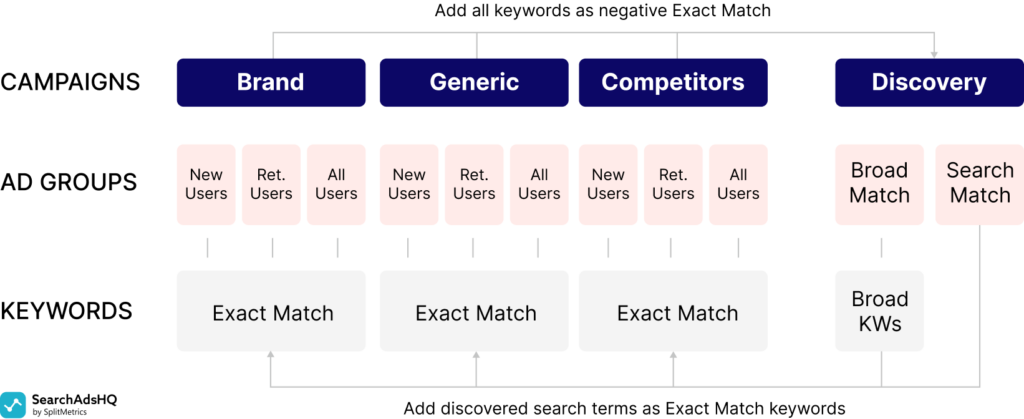 Now let's cut right to the chase: we've prepared a short and sweet step-by-step guide that will help you set up custom product pages on App Store Connect and make the most of this iOS 15 new feature. This custom product pages' guide is illustrated by an example of how to create custom product pages as part of a specific strategy.

Step-by-step setup guide: how to create custom product pages
1. Define your strategy in regard to custom product pages.
Align Apple Search Ads campaigns with special semantic groups or offers.
Connect Apple Search Ads keywords with messages on creatives.
Align the visual part and messages on creatives with the visual assets on your app store product page.
2. Make sure you've got relevant creatives to use for custom product pages.
3. Update App Store connect to see the feature.
To update it, you can use a link:
https://developer.apple.com/app-store-connect/submission-update/. Keep in mind that this option is available for the Account Holder only.
4. Create a custom product page. Keep in mind you have 35 slots only, but there's an option to delete irrelevant ones.

You can create a custom product page based on your current page or set up a new one.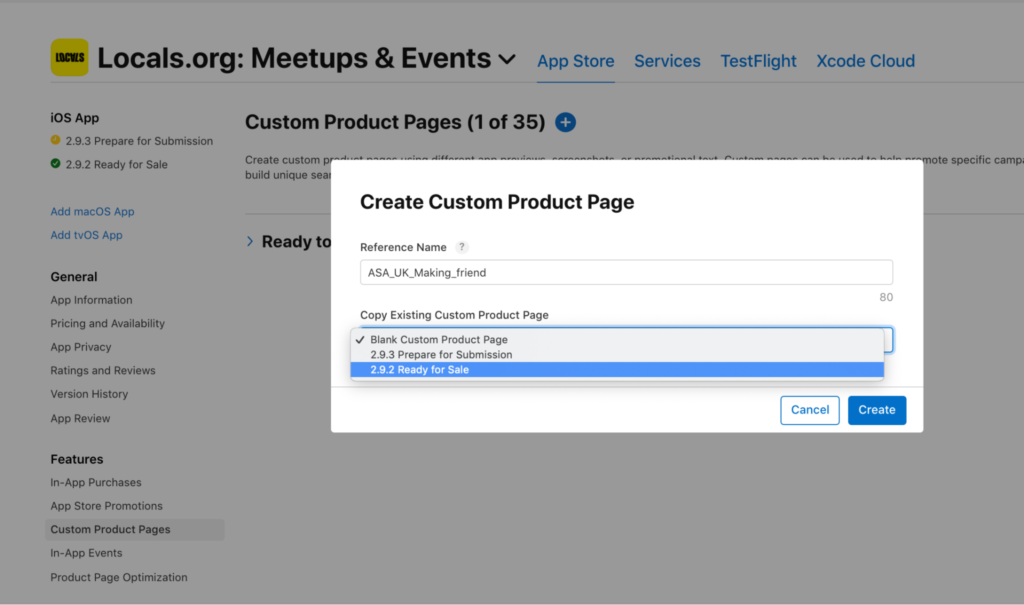 In this example, we're testing a separate semantic group in Apple Search Ads campaigns. And the goal is to focus on an audience interested in making new friends and finding new communities. We want to connect keywords, such as 'meet up', 'friends' and 'meet locals' to the message on the creatives. We've got relevant screenshots. That's why we've chosen an option to create custom product pages based on the current page.
5. The page is created.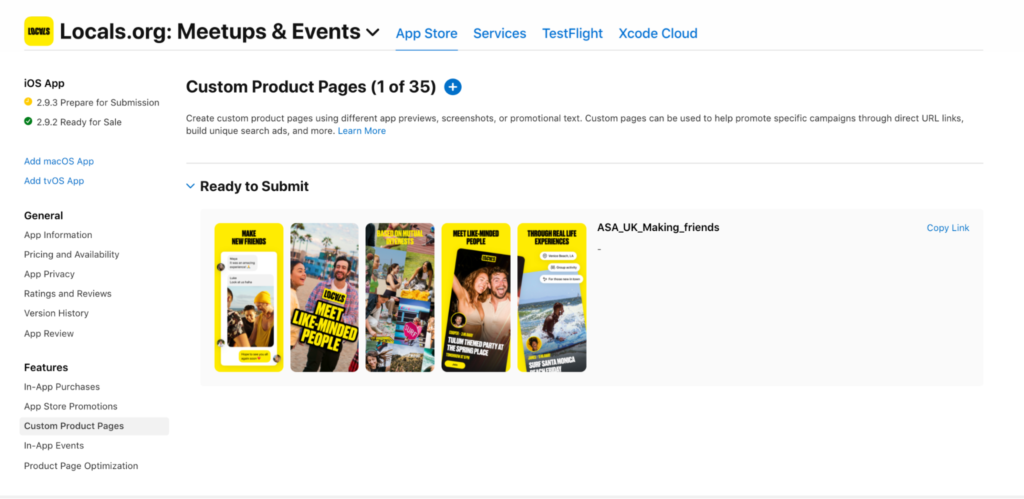 6. Now you can dive into the page settings and adjust it to your strategy.
Change creatives (delete or mix them) or add new ones.
Add a relevant promotional text (110 characters).
Press the 'save' button.
Add the page to review.
We've kept relevant creatives and deleted others as visual noise and distraction. Also, we've added a new promotional text to keep the focus on friendship instead of describing all features the app has.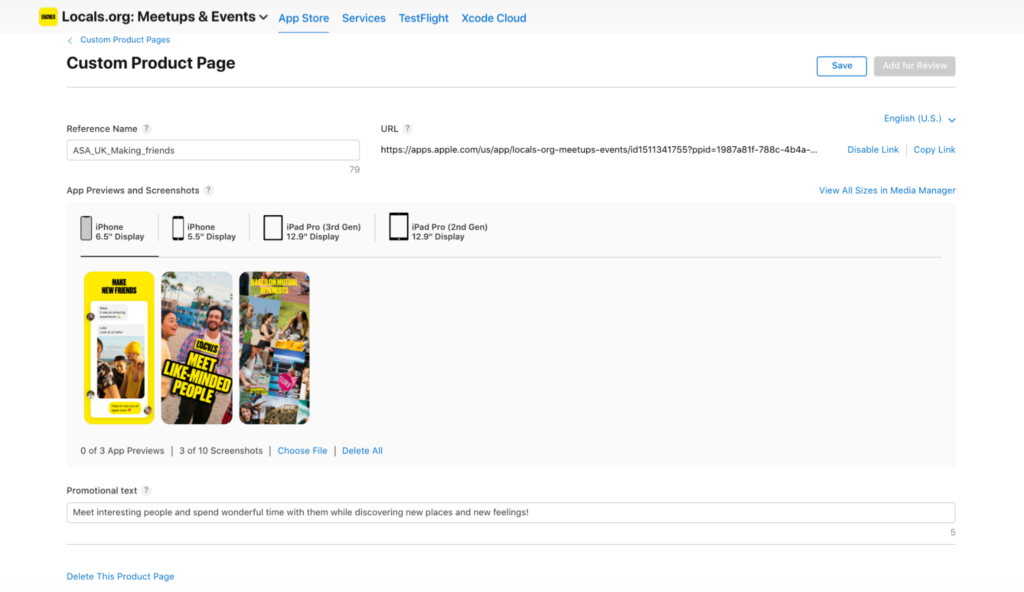 7. Once you get the approval, you're ready to use your custom product pages in Apple Search Ads through the Apple Search Ads interface or via other channels using the custom link.
Get the maximum profitability from your Apple Search Ads with SearchAdsHQ effective solutions and expertise.
Optimize your Apple Search Ads campaigns with SearchAdsHQ
Request a Demo